Travel/Gift Set
Regular price

$34.99

Sale price

$24.99
Introducing the Modafino Travel & Gift Sets – a luxurious ensemble curated to elevate your hair care routine wherever life takes you. Unveil the secret to healthy, vibrant hair with our meticulously crafted products that combine the power of nature and modern science. Each set is a thoughtful combination of essentials, ensuring your hair looks and feels its best, no matter the destination.
Modafino Shampoo Brush: Indulge in a spa-like experience with our exclusive Shampoo Brush. Designed for a gentle scalp massage, it enhances blood circulation, promotes hair growth, and ensures a thorough cleanse. Let the ergonomic design and soft silicone bristles rejuvenate your scalp, leaving your hair feeling refreshed and revitalized.
Modafino Shampoo: Our Modafino Shampoo is a harmonious blend of natural ingredients and advanced formulations. Gently cleanse your hair while maintaining its natural moisture balance. Free from harsh chemicals, it leaves your locks feeling clean, soft, and ready to face the day's adventures.
Modafino Conditioner: Nourish and hydrate your hair with our Modafino Conditioner. Enriched with botanical extracts, it restores moisture, detangles, and enhances the natural shine of your hair. Revel in the silky smooth texture and enjoy hair that's not just manageable but radiantly healthy.
Modafino Leave-in Treatment: Experience the transformative power of our Leave-in Treatment. This lightweight formula is a multitasking marvel, providing protection, moisture, and repair in one easy step. Bid farewell to frizz and welcome a radiant, smooth finish that lasts throughout the day. 
Modafino Argan Oil (Sample Size): Discover the magic of our Modafino Argan Oil with this sample-sized gem. Packed with essential fatty acids and antioxidants, it nourishes and adds a luxurious shine to your hair. Experience the revitalizing effects of argan oil, leaving your hair looking and feeling sublime.
Whether you're jet-setting around the globe or gifting someone special, the Modafino Travel & Gift Sets are a symbol of self-care and indulgence. Elevate your hair care routine with this comprehensive collection, because every strand deserves to be pampered. 
Buy Modafino With Confidence!
30 Day Money Back Guarantee
If you don't absolutley love our product, you can get a full refund!
Get Thicker And Fuller Hair
Modafino makes your hair thicker and fuller by using all natural ingredients that stimulates the scalpe and promotes growth
Concentrated Formula
Unlike most of our compeitiros, our product is made from a concentrated formula. Less is more with Modafino!
What Are People Saying About Modafino?
Testimonials





I'm absolutely loving these products! I wasn't sure about using such a small amount of product, but my hair is so fresh and clean afterwards. My hair hasn't felt this lovely and healthy in a long time. I won't ever go back to using a store brand shampoo and conditioner again. I love that it's organic and in no waste containers. The cost is worth every penny.

Amazon Shopper
I absolutely love this for my hair. I have super fine hair that is down to my waist and this product makes my hair super soft and I can go days between washes without looking greasy at all! Totally worth the money.

Ashley
I don't have to use as much product to get the results that I want. My hair looks fuller and is softer.

Cindee
This product worked wonders on my damaged hair …. It has started getting healthy and actually growing again …. It's amazing !!!!

Amazon Customer
This is a great shampoo and conditioner worth the price! It helped cleanse out my hair from residue I got from using a very strong gel that I no longer use. It gives your hair a nice natural shine that you will notice after using it for several weeks. Also, as a guy I felt the scent was very good and seemed to be more of a gender-neutral scent. The last thing any guy wants is to walk out the door smelling like he borrowed his girlfriend's shampoo - no issue with that here.

Amazon Customer
Two Bottles Same Great Formula
Subscription bottle
Premium No Waste bottle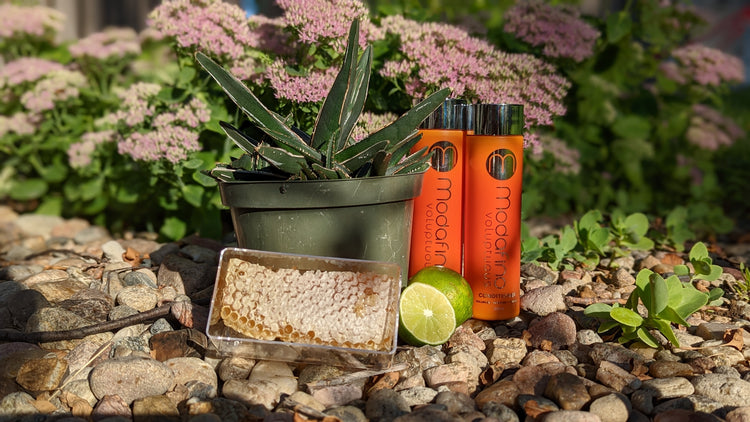 What's In Modafino?
1. Honey Bee Propolis

Energize the cells in your scalp with all natural Honey Bee Propolis. Recent Japanese studies have found Bee Propolis and it's natural properties promotes and encourages hair growth
2. Mexican Blue Agave

The Mexican Blue Agave Blossom being a key ingredient in the fregrance of our conditioner in conjunction with it's nector attract water, and as a result draws moisture into the hair follicle. This nourishes your hair down to it's roots!
3. Kaffir Lime

Strengthen your hair down to it's follicles. Using Extracts from Kaffir Lime, your hair follicles will be fortified.